Roblox DABBING NOOB Perler Hama Bead Custom Art 9×8.5
You haven't lived life unless you seen a Roblox Noob dapping. I have truly lived a full life now. This is super creative. Who dreams up this stuff. Probably some 7 year old kids named Jeff. Who knows.
ROBLOX Noob Skin Hama bead perler
A very simple and easy pattern to try out. This looks like a great candidate for a pair of earrings or key chain. What do you think? When you use patterns like this to make jewelry, it's great when people recognize where it comes from. That is so validating. You dedicated time to create a representation of something you like, people like it, and they connect with it. That is really gratifying.
Easy to Make Roblox Noob 3D Perler Bead Pattern
Krysanthe created a guide for this one. The directions are clear. You shouldn't have a problem understanding the pattern. If you do, let us know. We can help.
I don't see many 3D bead patterns. If you know of a source please share. We're always looking for new patterns to try and showcase here on The Perler Bead Post.
ROBLOX Perler Hama Bead
This is a great pattern. It's pretty simple with only for colors. The biggest challenge with this one is time. I would not be surprised if this took a few hours to complete. It still looks fun though. It's likely hundreds of beads and not thousands to complete this pattern.
ROBLOX – Baconhair, Play_butiK, Noob and ujjllh
Those are very creative names. I have no idea who they three are other than Noob. If you do, can you drop a comment below? I wonder if it's a game everyone plays that I'm not aware of. Baconhair, hmm. Baconhair must have short hair. There's a lot of bacon lovers out there. I can't see this growing to long. Bacon is delicious, right?
Roblox Noob
I've recently discovered PNG Kit. There's a lot of patterns there if you're looking to try new things. Unfortunately, I only came across this Roblox's pattern. If you find more there, let us know. We will add this to the list. We will also give you a shoutout for sharing the information with us.
ROBLOX Arsenal Game Delinquent head perler
I haven't played the Arsenal Game but it probably involves combat. If you've played the game, can drop a comment below. Tell us what's fun about the game. Is it worth playing? Do you know if people are still playing? Thanks.
ROBLOX CROCHET PATTERN
I know this is a crochet pattern, but I'm dying to know if anyone know which Roblox's game this is from. I feel like I've seen this before, but I can't put my finger on it.
Roblox Man cool dude
Those are some funky glasses. I like how the pattern is a few layers and not completely flat. It's not completely 3D but it's not completely 2D either. Patterns like this shows the flexibility of perler beads. Perler beads are a very cool medium to work in.
Roblox Logo Perler Beads
This logo looks identical to the picture above. The picture above is likely two patterns someone combined together. This pattern is pretty straight forward with two colors. I think most people can finish this one quickly.
Roblox Logo Pixel Art
Do you want to give a pixel art pattern a try? If so, here you go. You can use this pattern to create physical and digital art. This pattern is really versatile.
Roblox themed standing characters SANS and NOOB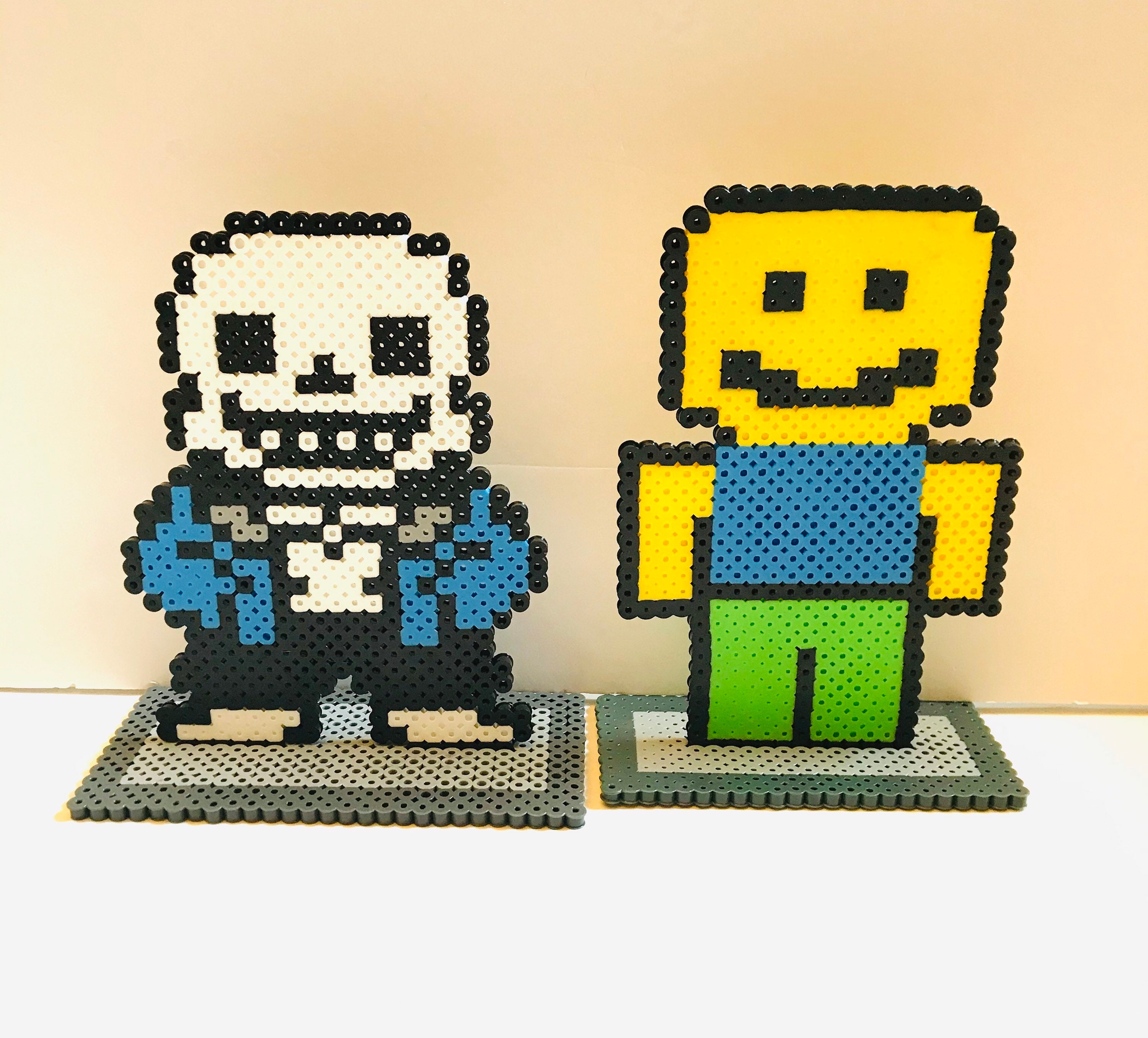 These are cool and you can buy them off Etsy. I believe the intent is to put them on birthday cakes. I think you would need a large sheet cake to do this. However, I can't really tell the scale due to a lack of reference in the picture. Oh well, now I'm hungry for a piece of cake.
Don't stop at Roblox
If you love Roblox, here are some other things to try.
Selling your crafts
Have you thought about selling your work? I created a page of tips for getting started on Etsy. Etsy is a great place to start for beginners. Let me know if I need if there are any additional tips that I should add.